1. Weekend Love
We had a fun, pretty fast paced, but fun, weekend. Friday we picked up groceries, not that it actually helped us eat meals at home! We have to get out of this fast food phase we are in. When the house warms up we just don't feel like cooking (ha! Either the food or ourselves ;) ) in our hot house. Saturday morning Brian got up at 4ish to go fishing with a friend so he could be done in time for Owen's FIRST T-Ball game. Watching all of the kids play is a lot of fun. Some of the parents were joking about how our $35 will be the best money we spend on entertainment all year.
2. Birthday Love
Today is my husband's birthday. Great day to praise the Lord for giving life to the man I married, every day I praise the Lord for him, but not so specifically :p. Saturday afternoon we went to Dundee to buy his birthday present, a personal raft designed for fishing. Oh boy! He's like a kid in a candy store at Cabella's and I probably will kick myself later for getting him something that will tempt him to spend even more time away from us fishing, but I love how happy it made him and I do like that he has a hobby, usually ;).
3. Relay Reflection
Then we walked the Relay for Life for 3 hours and enjoyed the different teams, different kids games, and food options. We ran into a few people we know but not as many as usual. Mostly I just reflect the whole time I'm there, I think about how much we have been through, how many people we know going through, or healing from cancer. I praise God for the beauty that we were able to find in that trial, for the faith that grew between us, and especially for the people who blessed us during that time.
4. :` (
Just hours before going to the relay, we heard from an old friend for the first time in a long while. A friend who supported us and stood by us at our wedding, who deviously helped us plan surprises on each other, who cried
when Brian got sick
, who laughed for joy when we told them we were pregnant (then again), someone who understood the significance of each trial we went through. A prayer warrior, a cancer warrior, a mentor. The Lord used this person mightily in our lives, and we are heartbroken to hear they were recently diagnosed with Hodgkins Lymphoma stage 2.
I hate this.
I tear up each time I think about it. Nobody should ever have to have cancer, but someone who has such a big and giving heart? A person with so much love and faith and who helped us so much. It just doesn't seem right. My initial response was a loud outburst
"NO, no no no." My heart has not stopped repeating it.
They are still discussing treatment options, running tests, and dealing with this quietly as a family, so please just keep them in your prayers anonymously at this time.
"Out of the depths I cry to you, O Lord;"
Psalm 130:1
5. Sunday Love
I love Sunday's, I love my church, my church family, love seeing my friends, worshiping and praising God together, and holding each other up when times are hard. Even if it's through smiled prayers. This week I had the pleasure of being in the nursery, first time in a long time as my kids were so sick this winter I missed 3 or 4 of my nursery weeks in a row, oops. I love watching the little ones, they each are so different, with different features and backgrounds but in that room, they don't care. They all walk around stealing toy's, giving hugs, knocking babies over, and laughing together equally, without prejudice. I can learn a lot from these little blessings.
6. Cleaning Love
Ugh. I despise cleaning. However, I'm a better person when things are clean. It took all afternoon of husband and wife team work but the house looks great. Our bedroom, bathroom and laundry need to be finished but we are getting there and it feels so much better, life is so much happier when our home is under our control. We have a busy week ahead of us so we had to get a jump start on cleaning the place if we were going to have any hope of having it clean on Friday when Brian's brother arrives for the weekend.
7. House Hunting Love
Walking through 2 maybe 3 houses in our town tonight and I seriously did the
happy dance
when I found out!!!!!! I was begining to feel very discouraged but today I am very excited, encouraged, hopeful, and full of prayer!
8. Busy Love
Tonight = house hunting, tomorrow = t-ball for Brian and the boys/work meeting for me, Wednesday = Church, Thursday = T-ball, Friday = Brother-in-law coming :), Saturday = Sister-in-law getting M.A.RRI.E.D, Sunday = day of rest! It's going to be awesome. Then the following weekend is Egan's 11 a giant reunion with my dad's side of the family.
9. Sewing Love
I've got a few new fun projects in my head, been making a couple of different kinds of bracelets and have a fun t-shirt revamp in mind. . . Now if only I had the time!
Linking this up to
Miscellany Monday
with Clarissa at
lowercase letters
.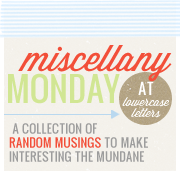 Ya'll have a nice Monday now!